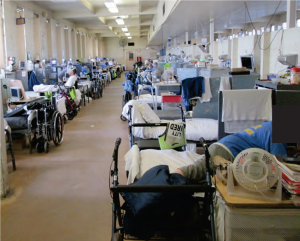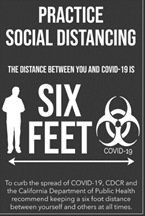 Links to the emergency motion and supporting documents filed with the court, along with CDCR's filings in response, are provided below.
Experts in both public health and public safety are urging that California take immediate action to prevent a COVID-19 disaster in the state prison system. On March 25, 2020, attorneys from Rosen Bien Galvan & Grunfeld and Prison Law Office filed an emergency motion before a three-judge court in Sacramento and San Francisco requesting a modification of the 2011 California state prison population cap to prevent an uncontrolled outbreak in the state's 34 adult prisons.
On March 31 the California Department of Corrections and Rehabilitation ("CDCR") filed their response. The court held a telephonic hearing on April 2.
On Saturday evening, April 4, the three judge court issued a ruling denying the motion on the grounds that the three-judge court lacked the power to issue a population order until the single judge Coleman or Plata courts attempted to address the pandemic by ordering measures other than a prisoner release.
Selected news coverage:
Judges deny California inmate release request, cite U.S. law, Associated Press, April 4, 2020
Federal panel rejects bid to free prisoners to slow spread of coronavirus behind bars, San Francisco Chronicle, April 4, 2020
No mass prison release for now – federal panel says it can't rule on coronavirus case, Los Angeles Times, April 4, 2020
'He could die': California urged to release older prisoners amid coronavirus, The Guardian, April 6, 2020
The motion is backed by the testimony of Dr. Marc Stern, an expert in prison health care, as well as by the state's former parole chief, Thomas Hoffman, both of whom testified that the public safety and health are at risk if the pandemic is allowed to spread through an overcrowded prison system.
April 4 Order of the Three-Judge Court:
April 4, 2020, Order Denying Emergency Motion for Modification of Population Order
Plaintiffs' Court Filings on March 25:
Emergency Motion, Coleman and Plata Three Judge Court Dkt No 6522, filed 2020-03-25
Proposed Order Granting Plaintiffs' Emergency Motion
Bien Declaration Exhibits 1-16
Bien Declaration Exhibits 17-47
Lynch Declaration Exhibits B-D
Declaration of Michael Brodheim
Request for Judicial Notice of Emergency Measures In Other Jurisdictions
Examples of Other Emergency Measures
CDCR Filings on March 31:
Defendant's Opposition to Plaintiff's Emergency Motion to Modify Population Order
Declaration of Dr. Michael Golding
Exhibit A – Executive Order N-33-20
Exhibit B – Executive Order N-36-20
Plaintiffs' Reply Filings on April 1:
Specter Supplemental Declaration
Supplemental Declaration of Marc Stern MD
Supplemental Declaration of Thomas Hoffman