Sanford Jay Rosen
Senior Partner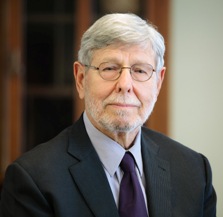 Sanford Jay Rosen is a founding partner of Rosen Bien Galvan & Grunfeld LLP, where he concentrates his practice on constitutional and civil rights law, employment law, consumer law, complex commercial litigation, appeals, and attorneys' fee disputes.  He is an experienced trial and appellate lawyer, arbitrator, mediator, ADR panelist, and testifying expert on attorneys' fees and related matters.
Mr. Rosen''s trial and appellate experience includes a wide variety of civil work for both plaintiffs and defendants, including class actions, and appellate criminal defense work.  He has secured numerous judgments and settlements of over a million dollars.
He has presented oral argument in the U.S. Supreme Court in five cases, in the U.S. Courts of Appeals for nine of the Circuits on more than 30 occasions (more than half of which have been in the Ninth Circuit), and before the Supreme Court and Courts of Appeal of California and other states about 15 times, as well as briefing many more appeals.
Mr. Rosen has tried numerous cases to bench and jury in federal district courts in California, Colorado, New York, Ohio and Virginia; in California and Maryland state courts; as well as to arbitrators and special masters in California, Hawaii and the Commonwealth of the Northern Mariana Islands.
He has been selected to the Northern California Super Lawyers list each year since the list first appeared, from 2004 to 2014. He was named to the Best Lawyers list for Appellate Practice for 2013-2015.  In 2008, Mr. Rosen received the Diversity Pioneer Award from the Council on Legal Education Opportunity (CLEO) for his contribution to CLEO's mission of increasing minority representation in legal education and the profession.  He has received comparable recognition from the Mexican American Legal Defense and Educational Fund, Inc. (MALDEF), the NAACP Legal Defense and Educational Fund, Inc., The Prisoners Union, and the City and County of San Francisco.
Mr. Rosen was law clerk to then Chief Judge Simon Sobeloff, U.S. Court of Appeals, Fourth Circuit in 1962-1963, after receiving his LL.B. from Yale Law School in 1962 and his A.B. from Cornell University in 1959.  Mr. Rosen, who has published extensively, previously worked as Legal Director of MALDEF, Assistant Legal Director of the national ACLU, the Associate Director of CLEO and as a law professor.
Representative Appellate Matters
U.S. Supreme Court
Whitehill v. Elkins, 389 U.S. 54 (1967), – in which the Supreme Court declared most of Maryland''s loyal-security statute unconstitutional, overruling a previous Supreme Court decision upholding that law.
Connell v. Higginbotham, 403 U.S. 207 (1971), – in which the Court recognized due process rights of non-tenured public employees.
Socialist Labor Party v. Gilligan, 406 US 583 (1972), – in which the Court did not decide the merits, but held that the case was not ripe for decision.
Communist Party of Indiana v. Whitcomb, 414 U.S. 441 (1974), –which involved the same issues as in Socialist Labor Party, and in which for the first time the Court applied full blown First Amendment standards to declare unconstitutional a civil disability as opposed to a criminal sanction.
Collins v. City of Harker Heights, 503 U.S. 115 (1992), – in which the Court significantly clarified the elements and liability standards for many 42 U.S.C. § 1983 claims and for municipal liability in § 1983 actions.
Mr. Rosen has prepared petitions, briefs (for parties and amici curiae) and motions in numerous other Supreme Court cases.
Other Federal and State Appellate Matters
Landmark Screens, LLC v. Morgan Lewis & Bockius, LLP, 676 F. 3d 1354 (Fed. Cir. 2012), in which the court reversed two district court orders, one finding Mr. Rosen's client's fraud claim time barred and another capping the potential damages for that claim.
Prison Legal News v. Schwarzenegger, 608 F. 3d 446 (9th Cir. 2010),– affirming the power of a federal district court to order monitoring to ensure a publisher''s First Amendment rights to send books and magazines into state institutions.
Davis v. California Department of Corrections (Oct. 31, 1997, Cal. Ct. App. A076411), in which the Court of Appeal upheld in an unpublished decision a multimillion dollar fee award including a 1.25 multiplier, under the Unruh Act.
Holland v. Roeser, 37 F. 3d 501 (9th Cir. 1994), – holding that Rule 68 Offers of Judgment do not cut off fees for making a subsequent fee application unless the offer is unambiguous on the issue.  Mr. Rosen prepared only the successful Petition for Rehearing/Suggestion of Rehearing en Banc that caused the panel to reverse itself.
Four appeals (one unreported) in Gates v. Deukmejian (including 987 F. 2d 1392 (9th Cir. 1993), 39 F. 3d 1439 (9th Cir. 1994) and 60 F. 3d 525 (9th Cir. 1995)), – a prison conditions case.
Rebney v. Wells Fargo Bank, 232 Cal. App. 3d 1344 (1991), involving– a consumer class action attorney fee matter.
Lucas Valley Home Owners Ass''n v. County of Marin, 233 Cal. App. 3d 130 (1991),– involving the validity under zoning law and constitutional law of a conditional use permit issued to a synagogue, the real-party-in-interest Chabad of Marin.
Eight appeals in Toussaint v. Gomez (including 926 F. 2d 800 (9th Cir. 1990), 826 F. 2d 901 (9th Cir. 1987) and 801 F. 2d 1080 (9th Cir. 1986)) – a prison conditions case.
EEOC v. Pan American World Airways, Inc., 796 F. 2d 314 (9th Cir. 1986) and 897 F. 2d 1499 (9th Cir. 1990), concerning– two appeals – one involving the appealability of a decision rejecting on grounds of inadequacy a settlement sponsored by the EEOC that Mr. Rosen's clients opposed, and the other affirming adoption of the nearly $20 million settlement of the federal Age Discrimination in Employment case that Mr. Rosen crafted after a two-month long jury trial.
People v. Mroczko, 35 Cal.3d 86 (1984), – in which the California Supreme Court unanimously reversed Mr. Rosen''s client''s capital conviction for murder in a decision establishing the rule in California that each indigent criminal defendant presumptively must be represented by his own appointed attorney.
Several cases arising out of the May 4, 1970 shooting of students at Kent State University (see 671 F. 2d 212 (6th Cir. 1982) and 570 F. 2d 563 (6th Cir. 1977)) including the civil rights-wrongful death and bodily injury cases that Mr. Rosen successfully appealed, retried and settled.
Familias Unidas v. Briscoe, 544 F. 2d 182 (5th Cir. 1976), –overturning discovery sanctions on First Amendment grounds in a case involving a Texas statute that required disclosure of a civil rights organization''s membership list.
Marin City Council v. Marin County Redevelopment Agency, 416 F. Supp. 707 (N.D. Cal. 1976),  involving a complex case where the court rejected a claim that HUD and a developer (Rosen''s client) had provided insufficient federally assisted low-cost housing in a Marin County housing development.  The decision was affirmed by the Ninth Circuit in an unpublished decision.
Evergreen v. Foundation Films, Inc. v. Davis, where Mr. Rosen succeded before the Ninth Circuit on an expedited appeal involving the motion picture rights to Dee Brown''s Bury My Heart at Wounded Knee.
Vinyl Products Inc. v. Armstrong Asphalt, in which the California Court of Appeal reversed a JNOV in a negligence and breach of warranty case in an unpublished decision.
United States v. Hawthorne, 370 F. 2d 330 (4th Cir. 1966), which (on constitutional grounds) narrowed the scope of the 1961 Federal Criminal Travel Act.
Early in his career,  Mr. Rosen won dispositive summary judgment motions for plaintiffs before three-judge district courts for the District of Columbia in Williams v. Blount, 314 F. Supp. 1356 (D.D.C. 1970), declaring censorship of certain mail unconstitutional as a violation of procedural due process of law, and in Hiss v. Hampton, 338 F. Supp. 1141 (D.D.C. 1972), declaring the "Hiss Act," which denied Alger Hiss and others their United States government annuities, an unconstitutional ex post facto law.